Meet Steve
Steve Fredlund is a mentor and keynote speaker, providing insights and encouragement to help people become happier. He has more than three decades of problem-solving and leadership experience in corporate, nonprofit and entrepreneurial settings. Steve has an MBA and is a Fellow of the Society of Actuaries; he is a two-time TEDx speaker, founder of Small Small Business and creator of The Solving BOX ™ framework. Steve has lived his entire life in East Central Minnesota with his wife and their three, now-grown children. His multi-passionate interests include podcasting, poker, disc golf and trying to stay a loyal Minnesota sports fan.
You can find out more about Steve's professional background on his LinkedIn profile… which is where is also creates a video every weekday called, "Steve's Daily Stool."
Steve's Leadership Journey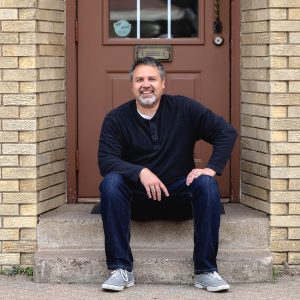 Mentoring
Individual Mentoring: Bob Proctor said, "A mentor is someone who sees more talent and ability within you, than you see in yourself, and helps bring it out of you." Steve naturally sees the ability in others and encourages them to lean into their natural skills in a way that is aligned with their passion and personality. Through individual mentoring, Steve helps release the talent and ability in his clients and celebrating successes along the way. Steve is also always available to his mentees who need help with a problem, are looking for a bit of encouragement, want to share exciting news, or just need a listening ear. Each month of mentoring includes up to 60 minutes of live conversation with Steve (scheduled or ad hoc) and unlimited email access. There are no long term commitments; you just pay as long as you are finding value. The monthly cost is $250, which is reduced to $175 if you are part of Steve's Partner Network.
Group Mentoring: Weaving a Happier Life: In this ten week course, Steve leads the group through each critical element of building a happier life. Using videos, weekly live group conversations, homework assignments and additional resources, each participant has the opportunity to truly understand what makes them happy and intentionally start incorporating those things into their lives. All sessions will be recorded and available to participants for a limited time. Groups are scheduled as soon as there are at least 10 people interested, so email Steve@SteveFredlund.com and let him know of your interest or set up a time to discuss the details. Cost for the entire program is $500. If you are part of Steve's Partner Network, your cost is discounted to $300.
Podcast Guest
Steve has hosted more than 600 podcast episodes, but really loves being on the other side of the microphone. Steve loves having the opportunity to be fully transparent about his life and experiences; good interviewers can really bring out the insight and passion the Steve naturally feels about life and his myriad experiences. The obvious discussion is about Becoming Happier, but Steve is happy to chat about Rwanda, small business ownership, nonprofit leadership, poker, disc golf, being disappointed by people, spiritual deconstruction, anxiety, being a recovering actuary, or many other journeys Steve has been on!
Contact Steve Today!
Steve likes to keep communication simple, preferring direct contact rather than sales funnels. Whether you are an event planner, organization, conference, potential mentee or anyone else, just teach out directly with any questions or comments.