Are you struggling to find your niche as an entrepreneur? Do you find yourself constantly distracted by new ventures and opportunities, unable to focus on your core business? If so, let me tell you, you're not alone. I've been there too.
As a business coach and community building expert, I've shared my own struggle with niching down and how I overcame my fear of missing out (FOMO) to find greater success in a recent episode of CallumConnects. And let me tell you, trying to do too many things at once can actually hinder your success. When you try to appeal to everyone, you often end up appealing to no one.
But by niching down and focusing on a specific area or group of people, you can build a stronger connection with your audience and establish yourself as a leader in your industry. My journey towards finding my niche in business coaching is a testament to the power of niching down.
I started by focusing on business coaching in general, but eventually realized the importance of narrowing down my focus to small businesses, particularly mom and pop shops and solopreneurs. I believe that investing in small businesses and helping them grow can have a significant impact on their communities.
So, how can you find your niche and pursue it with full vigor? My recommendation is to surround yourself with trusted individuals and have conversations to determine what you do well and what you do not. By doing so, you can find your niche and go even deeper into that niche to truly make an impact.
Remember, niching down is not about limiting yourself—it's about finding your true niche and using it to build a successful and fulfilling business. As my journey demonstrates, narrowing down your focus can have a significant impact and help small businesses thrive.
So if you're struggling with FOMO or finding it hard to focus on your core business, take inspiration from my journey and start prioritizing your niche today. Finding your niche can transform communities, and you have the power to make a difference.
About The Author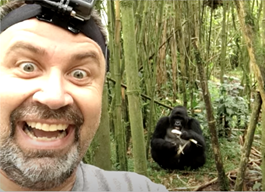 Steve Fredlund is The Safari Dude. As a professional actuary in human resources analytics, he uncovered surprising factors that enhance employee engagement, and work enjoyment; key elements for effectiveness, enhanced retention, productivity, and organizational success.
Minnesota to Rwanda, nonprofit to corporate, start-ups to Fortune 500 companies he brings to your event thirty years of leadership success. Steve's personal safari mission is to help great leaders and their teams enjoy an epic safari by getting the right peeps in their jeeps and in the right seats.